Tennessee Marriage License Requirements
Tennessee Residents: A Tennessee marriage license for residents costs $38.50 when you complete a four-hour marriage counseling class given by a qualified counselor or minister and you also have your certificate of completion to present when you apply for your license. However, the cost would be $98.50 if you haven't completed the marriage counseling.
Out-of-State Residents: A Tennessee marriage license in Sevier County, TN for out-of-state residents is $38.50--cash only.
Requirements
-Have a Tennessee marriage license to be married in Tennessee.
-Be 18 years old or have a legal guardian or both parents present to sign for the marriage license. Bring valid driver's license from your state or a certified birth certificate.
-Both sign for the application for a marriage license.
The license is valid for 30 days.
No blood test, physical, or waiting period required.
Smoky Mountain Marriage License Locations
Gatlinburg Shilling Center - Regan Drive, Monday and Friday from 8:30 a.m. to 3:00 p.m., Wednesday from 8:30 to 11:30 a.m., and Saturdays from 9 a.m. to 2 p.m. Call 865.430.3404

Pigeon Forge City Hall- Pine Mountain Road, from 9 a.m. to 4 p.m. on Saturdays only. Call 865.908.6613

Sevierville Courthouse- Monday-Friday, 8 a.m. to 4:30 p.m. and 8 a.m. to 11 a.m. on Saturdays. Call 865.453.5502
Plan your wedding and honeymoon with Black Bear Cabins and Weddings. We have romantic wedding packages and honeymoon packages in our romantic honeymoon cabins for your wedding in the Smoky Mountains. Our wedding chapel is convenient to Pigeon Forge, Gatlinburg, Sevierville and The Great Smoky Mountains National Park. Call one our wedding consultants today and let them help plan you're wedding, honeymoon and reserve our wedding chapel.
Get married in the Smokies!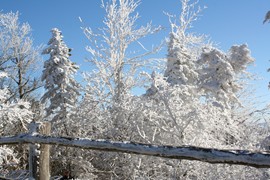 Wedding and Honeymoon Specials
Cabins for sale in the Smokies